Hydronic Underfloor Heating
A hydronic system simply heats water and moves it through sealed pipes throughout the home. The pipes often feed into radiators but the same principal can be used to heat floors with the pipes installed under the floors.
What is Hydronic Underfloor Heating?
Hydronic underfloor heating is an energy efficient and sustainable solution for heating your home. It works well under several different floor surfaces including marble, stone, slate, carpet, timber and all varieties of tiles. The simple premise is that water is heated in a boiler, then fed through pipes which are installed under your floor which then heat the floor and provide radiant heat throughout the room. Temperatures and timing can be controlled with a thermostat.
These systems are generally used in large spaces, and are particularly appealing to those looking to reduce their electricity usage. They have been popular throughout Europe for many years and are now becoming increasingly popular within Australia, including for Sydney homes.
How does hydronic underfloor heating work?
Hydronic underfloor systems work by heating water in a boiler and then circulating the warmed water at a low pressure through special pipes. The pipes are toughened plastic such as PEX and are embedded in a concrete slab, the screed above the slab or directly below the floor surface. As the floor heats up, heat radiates into the room gently and evenly resulting in a natural and comfortable heated space.
The boiler used for heating the water can be powered using one of several energy efficient and environmentally means. The most common is via natural gas or LPG, or you can also use an electric heat pump to heat the water. Perhaps the most efficient way of powering the boiler is by using solar energy but you may have to install a gas or heat pump backup for days that are cloudy.
Heat Sources and Running Costs
There are a number of energy sources and systems  you can use to heat your water for your underfloor heating, including natural gas or LPG boilers, electric air to water heat pumps, wood pellet boilers, a diesel boiler or electric boiler.
Running costs are a key consideration and one which can be challenging to answer due to the variability in types of fuels and prices. Actual cost of heating will depend on the area heated, running time, thermostat settings, house insulation, energy tariffs and the local climate. The costing graph below is based on the following typical heat load.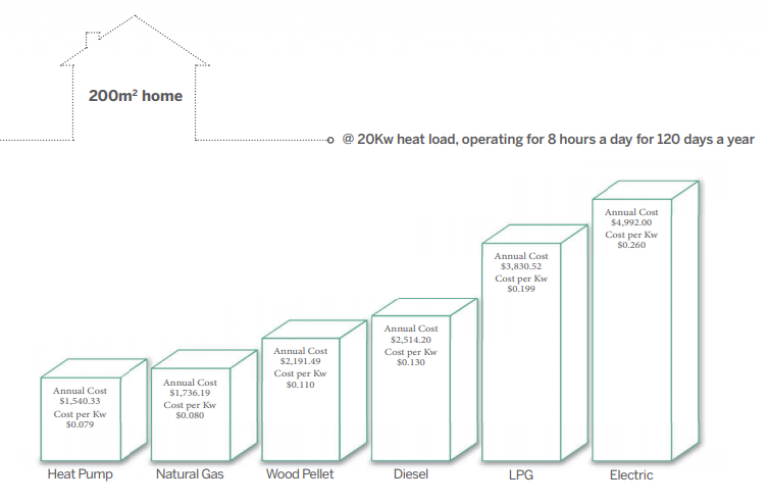 Heat Source Outputs & Cost Per Unit
Running Cost Calculation Example - Wood Pellet
22.3 kw maximum power = 4.9 kg/h
1 kg of wood pellets = $0.52
Figures are accurate as of 1st August 2017 and should be used as example only. Excludes –  supply, rental and delivery charges, on time payment, member discounts, government subsidies (eg agricultural diesel), and GST.
Australian Hydronic Heating and Cooling can work with you to determine the best heat source for your underfloor system. 
For more information on heat sources and running costs please refer to the Hunt Heating Underfloor Heating Guide.
Benefits of hydronic underfloor heating
Installation and Maintenance
Depending on the type of underfloor heating being installed (slab, screed, directly under floor covering), installation can be complex significantly and expensive than other heating systems (including electric underfloor heating), But once installed they can be powered by energy-efficient means such as natural gas, LPG, solar and even heat pumps.
Important areas to consider when installing are as follows:
Although hydronic underfloor heating systems require less looking after than most heating systems, they still need a certain level of maintenance over the years. The boilers require regular servicing and may need to be replaced after 10-15 years of use. Over time the pipes may become blocked and will require flushing to keep them clean and operating efficiently.
Types of hydronic underfloor heating
There are three main types of underfloor heating.
Hydronic slab heating
Slab heating is where the 'PEX" pipes are laid within the concrete slab itself. This system is therefore only suitable for new builds or major renovations where a new slab is to be laid.

The heat from the water warms up the slab first and then radiates into the room above. It can take anything between 24 to 48 hours to realise any benefit depending on the thickness of the cover which acts as form of storage.

The 'PEX' Pipe used under the slab which transfers the heated water has been especially designed to prevent corrosion, and is secured prior to the pouring of the slab, to either the mesh or the reinforcing steel rods. To avoid loss of heat into the earth, insulation can be first installed before any of this work begins.
Hydronic screed heating
With in-screed hydronic systems the pipes are placed on top of a waterproofing membrane and beneath a layer of screed (a sand and cement mix that is used to level the floor). The screed is poured directly over the coils, encasing and protecting them.

In-screed installations have a faster response time than in concrete slab installations, as it is closer to the floor surface. The same 'PEX' pipe is used but the method of securing it is by either pins attached to insulation foam or clipped to wire mesh. In addition the screed should be reinforced.
Hydronic heating directly under floor surface
With these systems the pipes are placed directly beneath the floor surface, whether timber, tiles, stone, marble or carpet. As the pipes are so close to the surface, these systems heat rooms slightly faster than slab or screed systems. But they are more fragile and susceptible to damage.

The same 'PEX" pipe is installed and allowances for insulation, pipe diameter and space taken into consideration. The pipe is secured by pins to insulation foam and where necessary notched batons which allow the pipe movement across the floor. The heating pipe is normally installed, before the floors are laid.
Cool your home with the same system
The water that is used to heat your underfloor slab in winter can also be cooled to cool your room in summer. With the addition of a chiller, the cooled water is pumped through the same underfloor slab as used for your heating system, avoiding the need for two expensive systems to heat and cool your home. Find out more …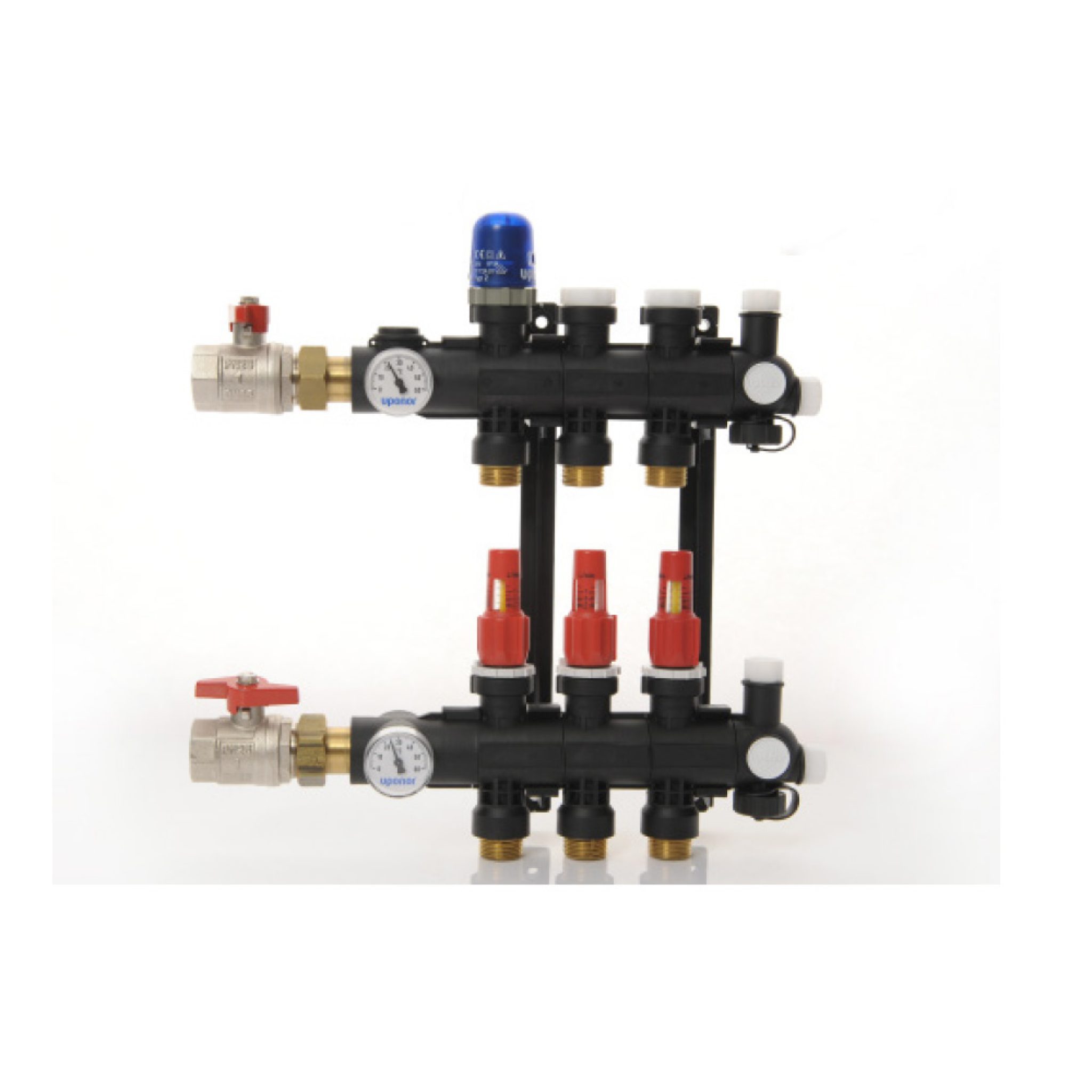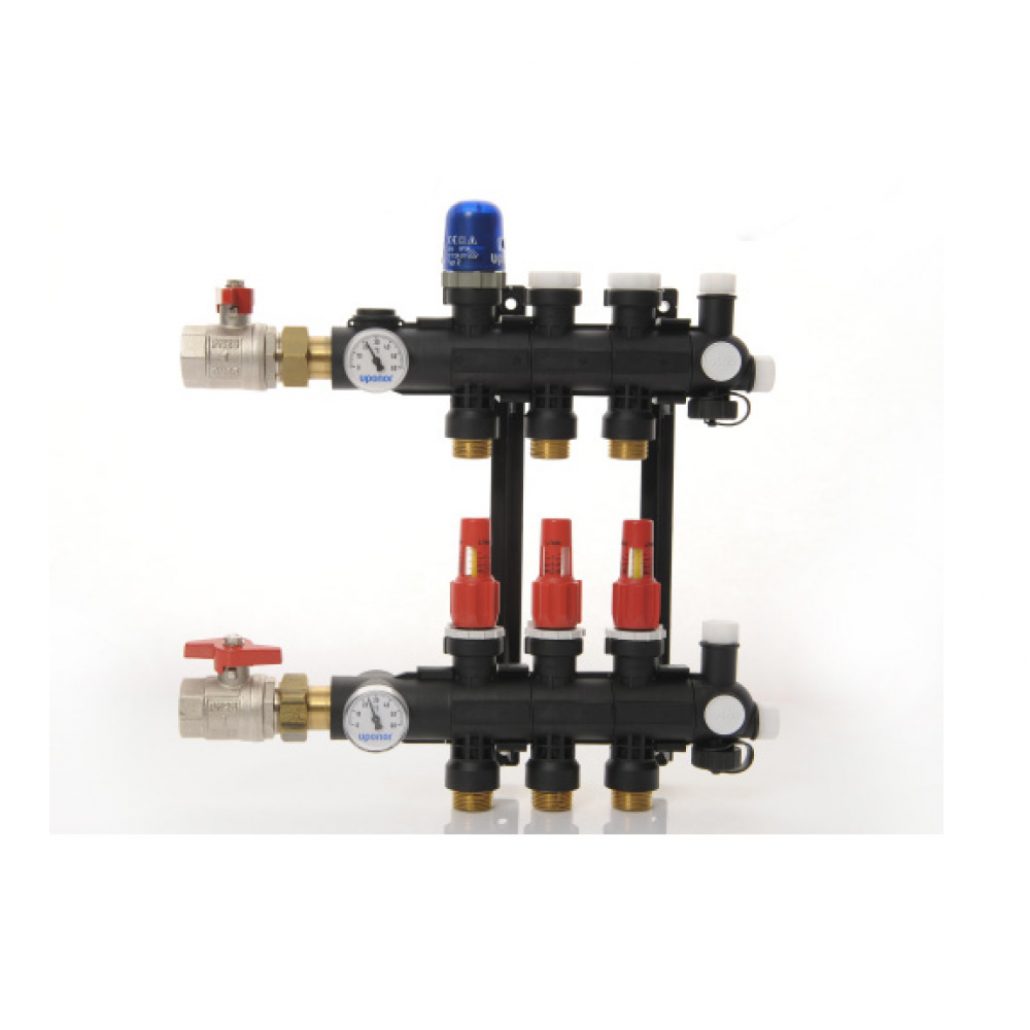 Australian Hydronic Heating and Cooling  work with a range of suppliers and only use the best products on the market. One of our suppliers, Hunt Heating, have a range of top quality underfloor heating products.
A manifold is central to your underfloor heating system, and and is used to distribute the water through. It provides a central place to connect both your supply and return lines. Supply water from the heat source enters the manifold and circulates hot water throughout the system. This Hunt Heating manifold is developed and designed with control valves for every circuit, lower installation depth and the ultimate in versatility.
When laying slab underfloor heating using a pipe positioning board helps create a thermal break between the slab and the screed which means you are only heating up the secondary layer of screed. This increases efficiency as it reduces the time it takes to heat up. The Hunt Heating pipe positioning board is a market leading pre-formed panel with an R 1.0 value.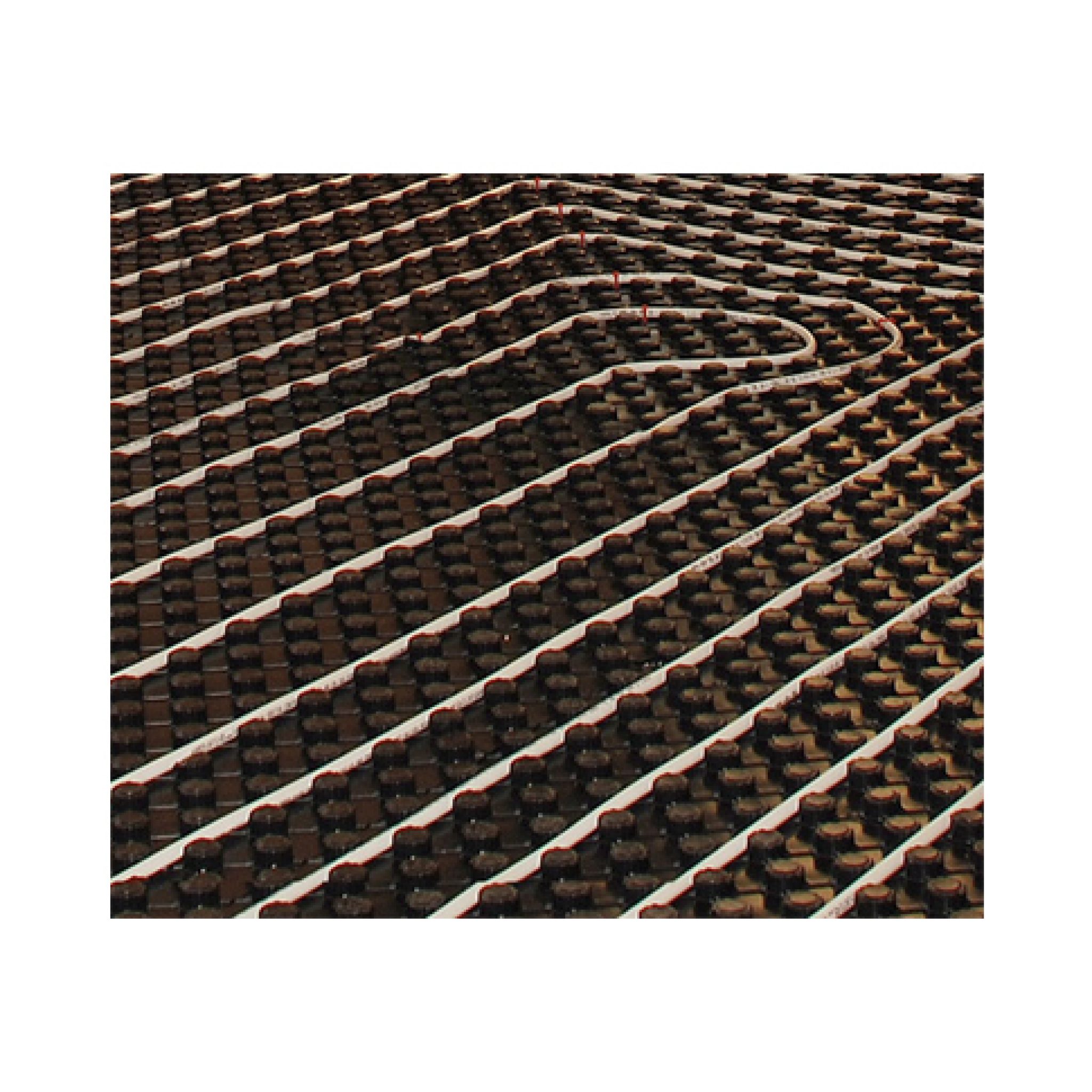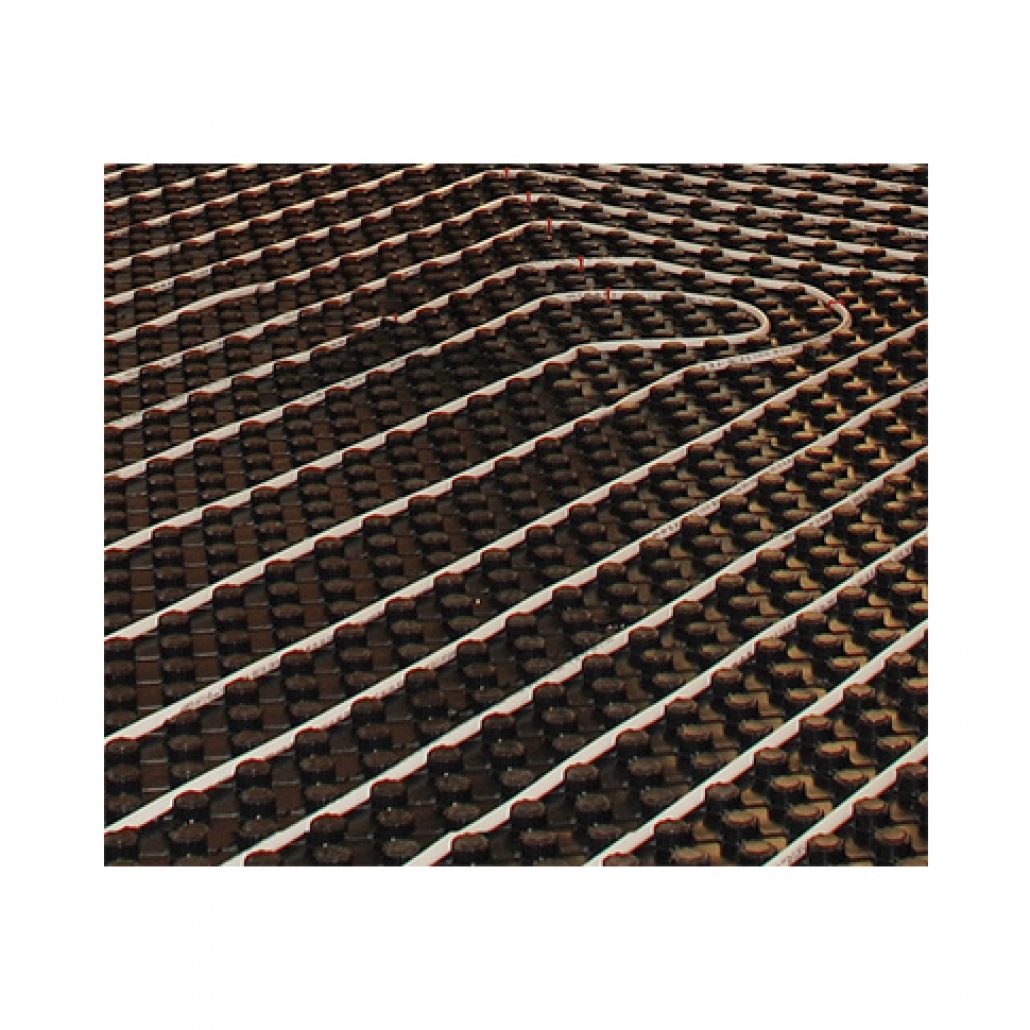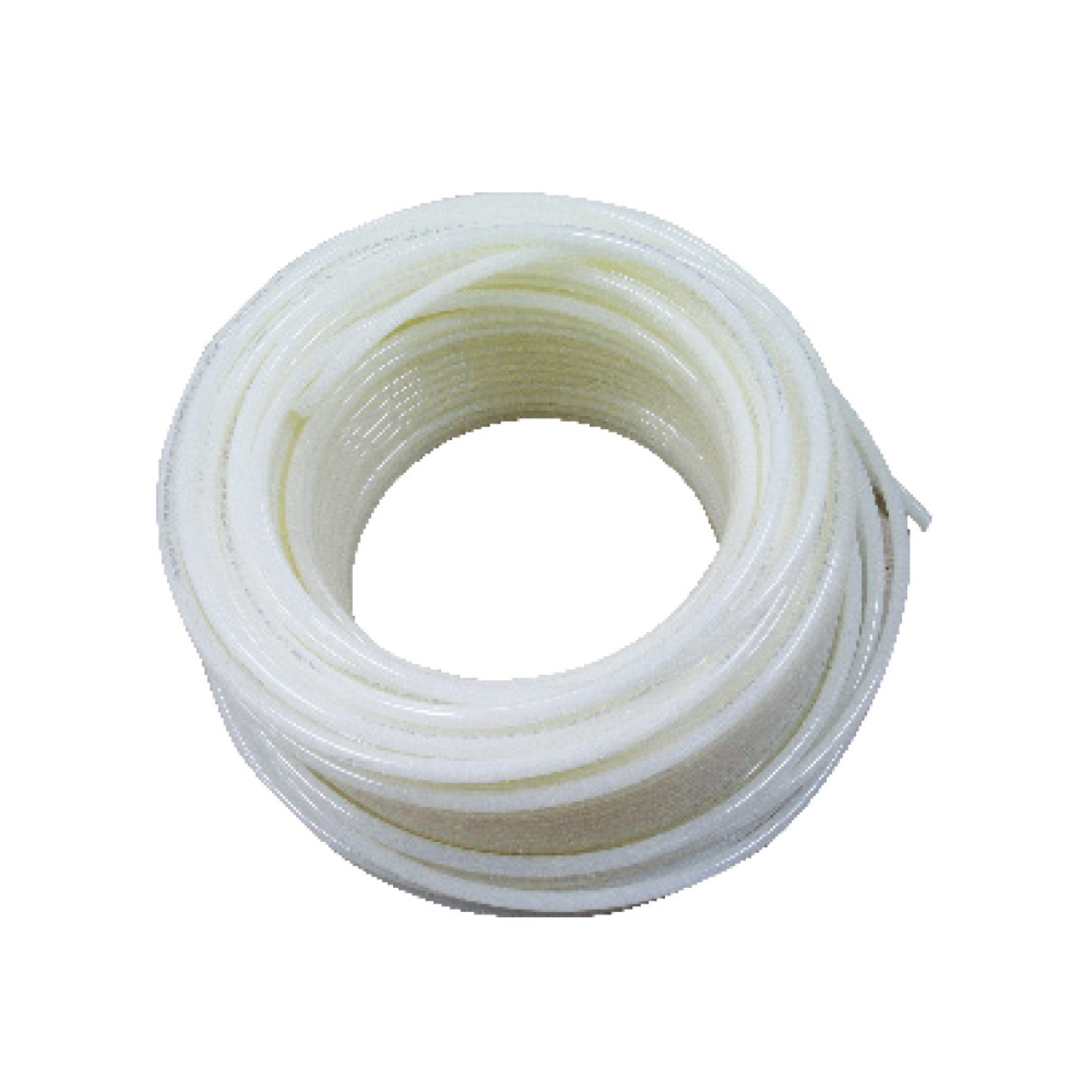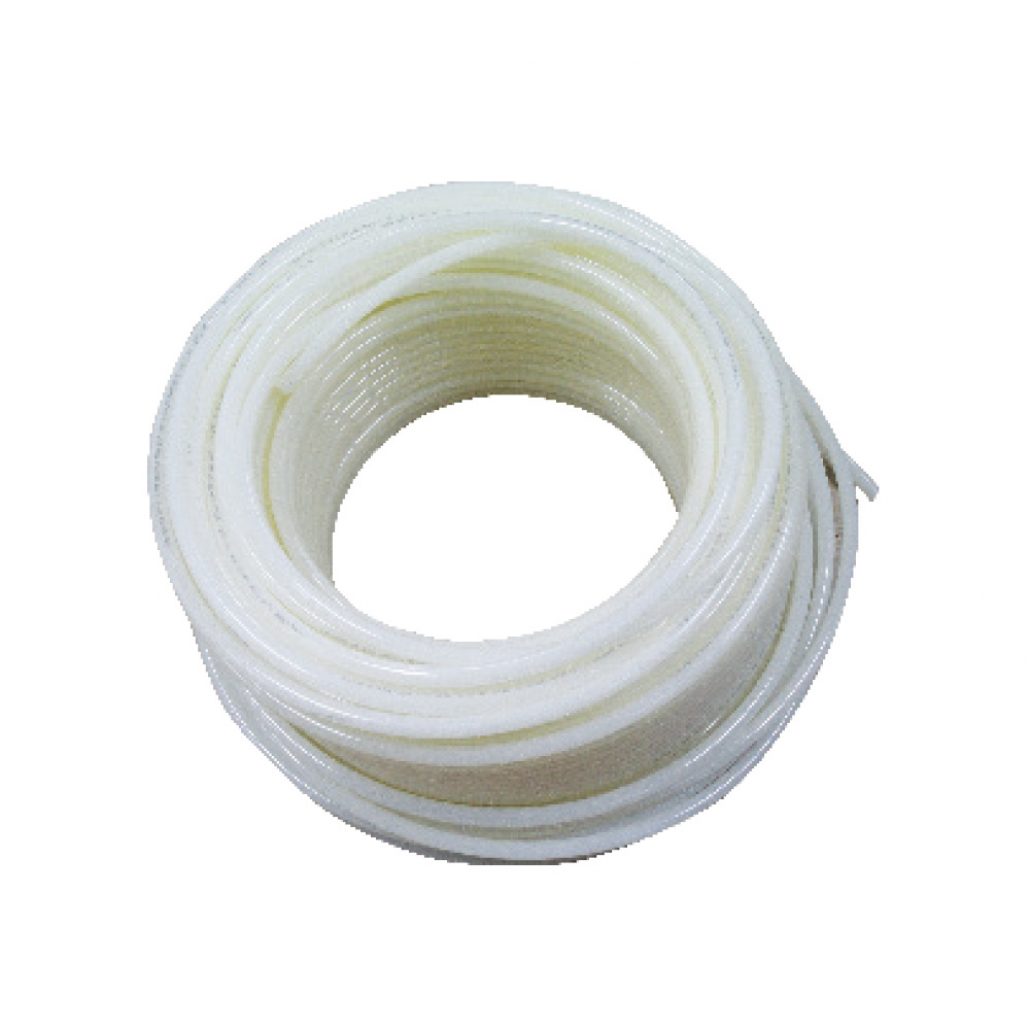 The most essential element to any underfloor heating system is the pipes, as a faulty pipe can lead to leaks or corrosion. Most underfloor systems now use a PEX (cross-linked polyethylene) pipe as they are flexible, won't corrode, don't burst in freezing conditions and are easier to install. This Pex-A pipe supplied by Hunt Heating is the most flexible PEX on the market allowing for the tightest bend radius and less likelihood of kinking.
Thinking of renovating and want to install underfloor heating? The Uponor Minitec underfloor heating system is ideal for renovation projects.  It can easily be laid on existing screed, timber or tiles, has a total build height of only 15mm and has a fast reaction time so the floor surfaces can start to feel warm within minutes. The Minitec system can be easily customised to fit around obstacles and the desired floor finish can simply be lay on top, leading to a fast installation.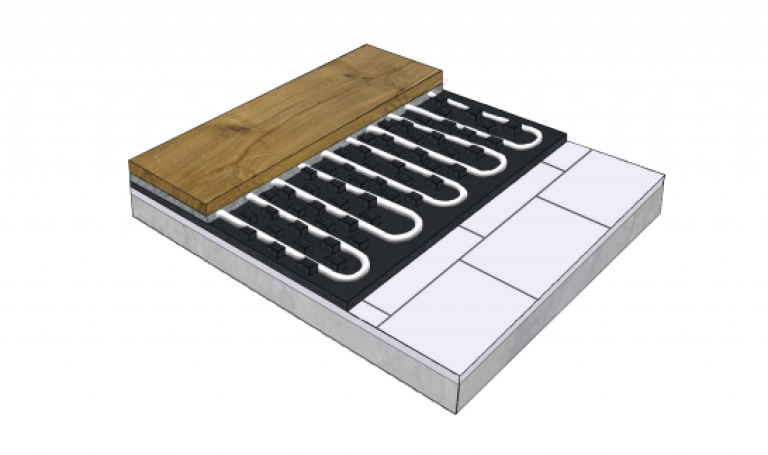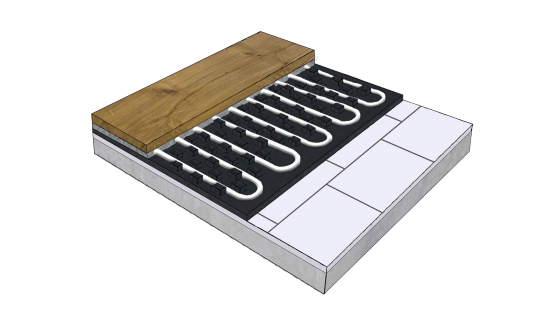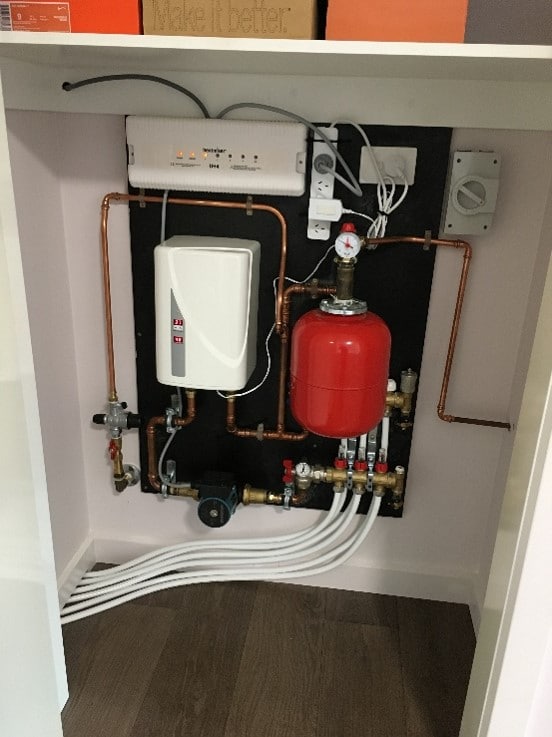 The MicroHeat CFEWH Single Phase and Three Phase Water Heating products can be used in underfloor hydronic heating systems. The MicroHeat Electric instantaneous solution is compact, requires no venting and is small with an A4 footprint. The unit is installed inside any recess inside the home,  close to the actual floor that's needed to be heated, ensuring the lowest amount of water required.  It provides accurate temperature control that delivers the temperature required in the reticulated circuit by digitally controlling the power accordingly, ensuring a safe and reliable, zoned hydronic system that delivers a market leading energy efficient solution for continuous water heating for your underfloor system.
Commercial Underfloor Heating Installation
Australian Hydronic Heating and Cooling also provide installation services for commercial projects, large or small. The images below are from a recent project where we installed underfloor heating for the Masina Ice Cream factory being built in Marrickville, NSW.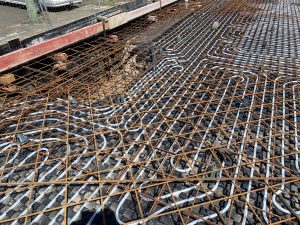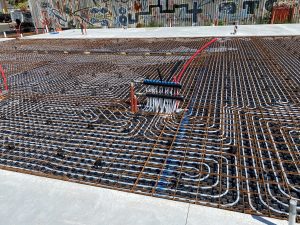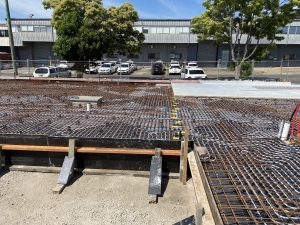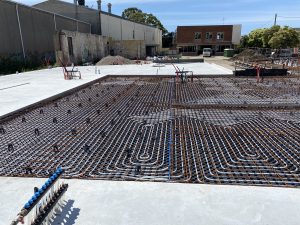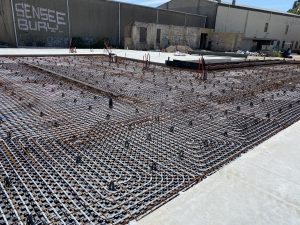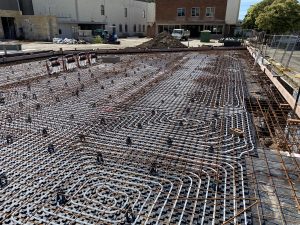 Australian Hydronic Heating and Cooling have years of experience of installing and maintaining hydronic underfloor heating systems throughout NSW and the ACT. We can help advice you on the best system that would suit your needs, including boilers, energy source (gas, heat pump, solar) and the type of hydronic system.
For Professional & Reliable Service Contact Us Now