Want to be enviornmentally friendly but don't want the bother of having to install solar panels to heat your water? Want to save money on your hot water bills? Heat Pumps are the latest development for hot water systems.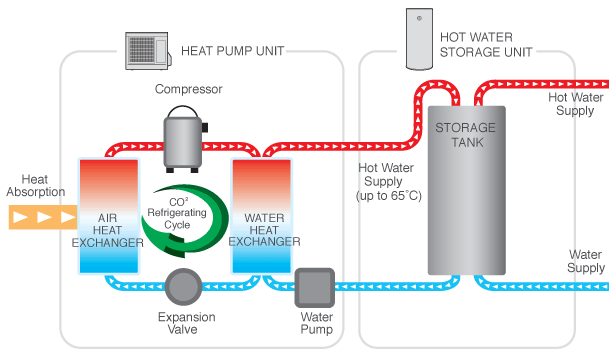 What is a Heat Pump?
Basically warm air enters the system and cooler air is pushed out. Cool water is then able to enter the system from the storage tank and at the same time heat is transferred to the water in the heat pump.Hot water is then returned to the tank ready for use.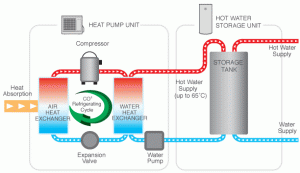 Benefits of a Heat Pump
No need to install expensive solar panels on you roof
They don't need daylight to operate
Compare favourably to solar panels for cost savings
They offer an environmentally friendly hot water option with a big reduction in greenhouse gas emissions
They are electronically controlled using the same connection as normal electrical hot water systems, meaning a cost saving when installing
They continue to wok well in low temperatures with the water remaining at a consistent temperature
They are manufactured and sold by reputable companies such as Dux and Rheem meaning they are guaranteed for years
Heat Pump Products
At Australian Hydronic Heating and Cooling we work with a number of suppliers to source the best products for you. Below are a couple of examples of hydronic heat pumps from Hunt Heating.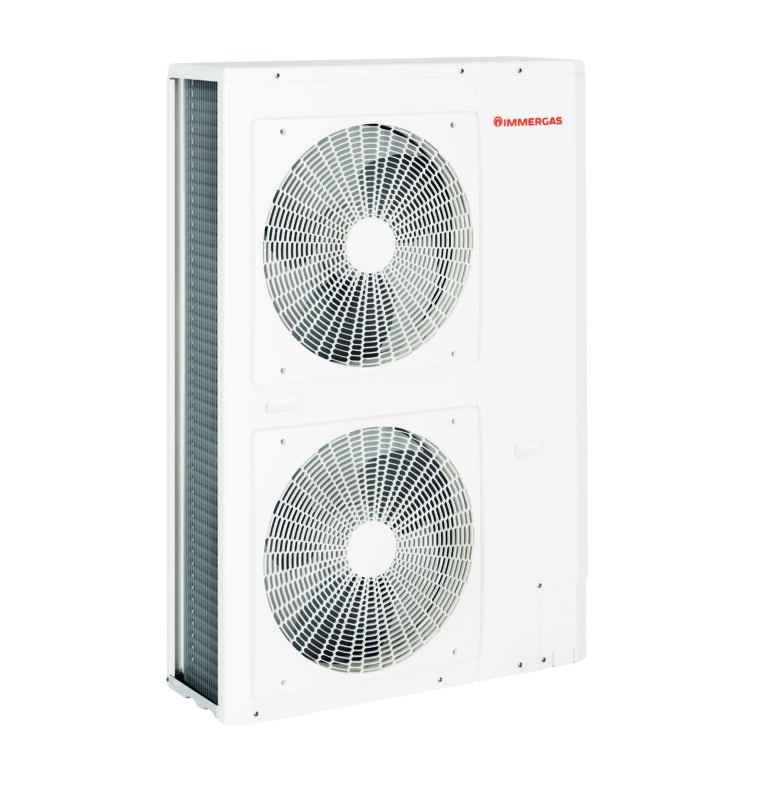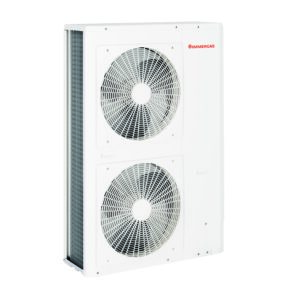 The Immergas Audax heat pump is an air to water heat pump using inverter technology, ideal for stand-alone systems or combined with additional heat sources and equipment delivering hybrid systems. It can provide both hydronic heating and cooling as well as domestic hot water.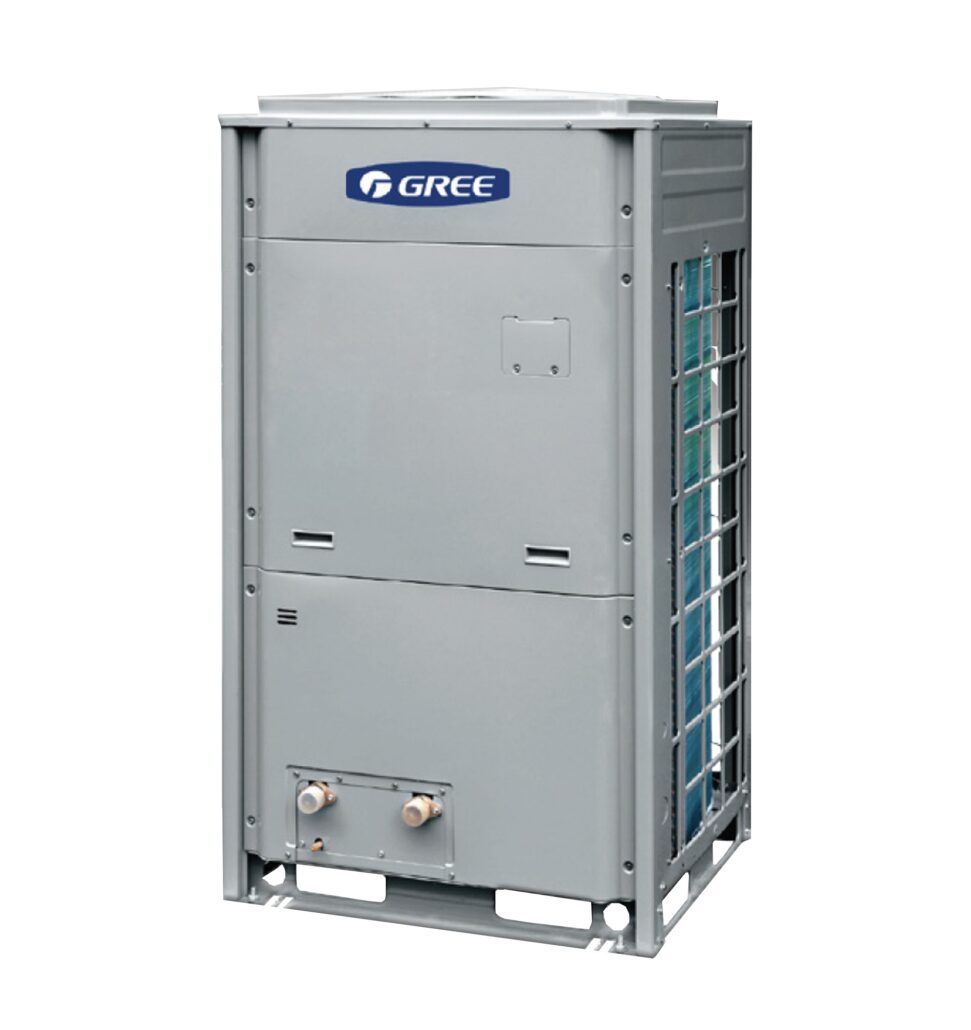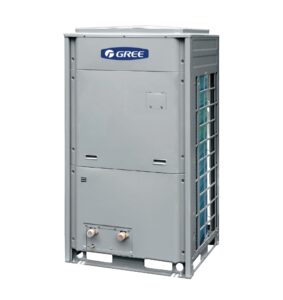 The Gree Ultra hydronic heat pump continuously absorbs low grade heat from the surrounding air and transforms this into usable high grade heat. This is then transferred to water via a high efficiency heat exchanger to ensure reliable, stable hot water supply. Its compact modular design makes it perfect for environments where reliability is a must and space is in high demand.
Rheem have brought out their new "Premium Rheem Thermal Range" of heat pumps for hydronic heating. These heat pumps are up to 50% cheaper to run than natural gas systems and 80% cheaper than LPG heaters. The Accent hydronic heat pump uses the best refrigerants and is available in both air-to-water and ground-sourced/water-to-water design. Some of the key benefits are as follows: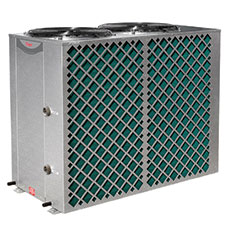 Full commercial construction including marine grade aluminum case and anti-corrosion
treatment of the evaporator
Market leading level of efficiency
Demonstrably lower running cost than competitor offering due to higher efficiency
Best suited to Australian conditions with enhanced evaporator and heat exchanger capacity
Suited to cool climate operation
Compressor housed in separate internal cabinet minimizing noise.
Over temperature control
HP/LP pressure control and flow switch
Marine Grade Aluminum Case, with the option of colour matching
Australian-made
Full manufacturer's warranty and factory/service support nationally
Faster temperature rise relative to competitor models based on higher heat transfer efficiency
The Unimo Eco-Cute CO2 Heat Pump from Mayekawa is a CO2 air to water heat pump which maintains a constant 90 degrees Celsius temperature. It has an extremely low GWP (global warming potential), is low noise and has a large ambient operating range. Other features include:
Constant supply – 35 tons of hot water supply per 24 hours
Minimised space – 1/3 footprint reduction increasing accessibility and installation locations
Simple design – bolt free design protects against rust and maintains attractive appearance
3 operating modes – power mode, standard mode and energy efficiency mode
Smart control – "unimo" automatically selects the most suitable mode of operation based on the built in control system that operates all auxillary equipment as well.
The Reclaim Energy CO2 Heat Pump Hot Water System
uses less energy than an electric water heater. It consists of a heat pump (compressor) and a storage tank (stainless steel or glass lined). The system's heat exchange collects heat from the air surrounding the unit to use as energy to heat up a pressurised refrigerant, which is ozone friendly CO2. The unit can supply in excess of five units of heat energy from ambient air for every unit of electricity it consumes, meaning the cost of energy used to produce hot water is minimised. 
Benefits include:
Average annual energy saving of up to 80%
Easy to Install
Quietest system on the market
One shot boost system for continuous hot water
Estimated payback period of 3 years
LG Therma V Monobloc Heat Pump
The LG THERMA V R32 Monobloc is an all-in-one heating solution designed to offer energy efficiency, convenience, and easy controls by applying advanced technologies. As it applies R32 refrigerant and LG R1 compressor to help it provide the powerful and high efficient heating.
With a a Wi-Fi modem and LG's smartphone app, LG ThinQ, users can monitor and remotely control compatible LG products, and access the vast majority of functions.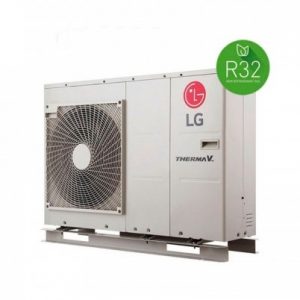 Monobloc is a fully packaged piece of equipment, where the indoor and outdoor units are combined as one module. Therefore, there is no need for refrigerant piping work since Monobloc unit located outside is connected only to water piping. Hydronic components such as plate heat exchanger, expansion tank and water pump are included in the package. Some of the features and benefits include:
Lower running costs – Therma V is approximately up to 4 times more efficient than boilers.
Renewable energy – uses 75% of natural energy absorbed from outside air and the rest comes from electricity, significantly reducing CO2 emissions.
Multi use – can be used for space heating, floor heating, cooling and hot water supply.
Remotely controlled from anywhere – with the LG ThinQ app users can control the heating system remotely.
Operating temperatures – can operate at extremely low temperatures and heat water up to 65 Celsius.
Environmentally sustainable refrigerant – equipped with  R32 refrigerant, the environmentally sustainable refrigerant which has a Global Warming Potential of 675, 70% lower than that of R410A's.
Heat Pump Service
To date Australian Hydronic Heating and Cooling has installed heat pumps into new properties, refurbished homes and businesses, the results of which have been both positive and gratifying.
We operate throughout Australia and pride ourselves on maintaining a good relationship with our customers, updating them on the latest technology.
We will be happy to quote you a competitive price for the installation of these attractive and unobtrusive heat pump systems and advise you which areas would best benefit from a particular heat pump.
We are on call 24/7 and no job is too small.
For Professional & Reliable Service Call 24/7
Full Heating and Plumbing Services