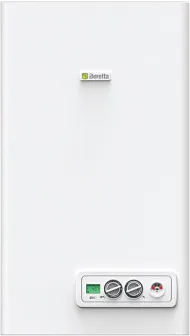 HUrlcon hydronic condensing gas boilers
Hurlcon Hydronic Heating offer a range of condensing boilers to suit every hydronic heating need whether it's domestic or commercial central heating. From the Beretta Meteo Green Pre-Mix high efficiency condensing boiler for the domestic hydronic market, to the Beretta Power Plus Pre-Mix high efficiency condensing boilers range from 50 – 400kW's for large hydronic domestic and light commercial installations. See below for more details on each model.
The Beretta Power Plus Box 500 offers another flexible option  with stand alone and cascade units up to 3 MW total power in the medium to large commercial hydronic applications, or the Lamborghini Futuria Power pre-mix high efficiency condensing modules ranging from 75 – 1160kW's. 
If you are interested in one of these boilers, Australian Hydronic Heating and Cooling can source and install for you. Just give us a call or send us a message online.