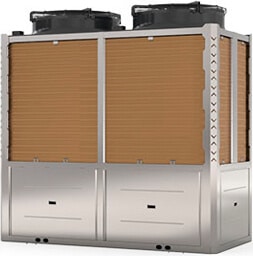 Evo Max Commercial Heat Pumps
Heating Capacity kW 19, 35, 70, 135
The Evo Max heat pump is ideal for commercial water heating applications that need high temperature hot water of up to 80°C, such as hospitals, nursing homes, hotels, industrial and laundry applications.
The  Evo Max offers a higher C.O.P than traditional boilers and can save up to 66% on
your annual hot water operation costs. 
If you are interested in this heat pump, Australian Hydronic Heating and Cooling can source and install for you. Just give us a call or send us a message online.